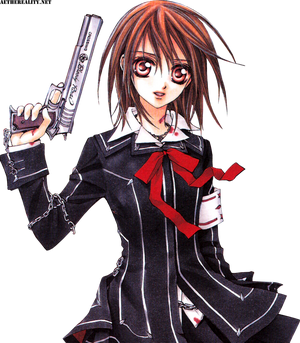 Yuuki Cross is the adopted daughter of the Director of the Academy and the disciplinary committee member, also known as prefect (or guardian). She, as Director of Cross Academy, believes that vampires and humans can live peacefully. It also gives Zero his blood, that this does not translate into the Level E, Crazy and blood
vampire. Yuuki can remember anything from before, when she was five and it is the E-level vampire kaname saved Kuranyi. When Reed Kuranyi, Yuuki's uncle, suddenly reappears, kaname awaken her vampire side and full-blooded power to protect it. Later she learns that there is a hidden numylėtoji Juri and Haruka Kuranyi's daughter, whose existence was considered secret of its own security. When Reed killed her parents, she is for adoption of the former vampire hunter and cross the Academy Director, Cain Cross (Keine Cross). She and kaname is grown as a brother and sister Yuuki parents, Juri and Haruka Kuranyi, who is a full-blooded vampires Kuranyi line head and kaname and if they die, it would become clear Kuranyi Vampire successor government. Although kaname is Yuuki's brother, it is also his fiancee. Later known is that both their parents, Juri and Haruka Kuranyi, were brother and sister.
      Yuuki Cross

Age: 15


Class: Day, Prefect

Biography: Rescued by Kuran Kaname from a rabid vampire at the age of 5 and then adopted by Chairman Cross. She is very kind-hearted and works hard to prevent the vampires and humans from hurting each other.
Community content is available under
CC-BY-SA
unless otherwise noted.